Get Linked Insights without sharing data
In a data-driven world, just your own data is not enough. Real insight comes from combining data from your organisation with data from others. However, as this will typically involve sensitive data, simply sharing or combining data is not an option because of privacy legislation, business sensitivity and the risk of data leaks.
Linksight makes it possible to perform analyses over data from multiple parties in a safe and privacy-friendly way, providing Linked Insights. This is done without actually sharing the sensitive data with others and with you staying in full control of your data.
Through this approach it's possible to solve a wide range of data-sharing problems, including:
Medical research without sharing patientdata, for example between hospitals, insurance companies and farmaceutical companies
Fraud investigations in which only what's necessary is revealed, even between different departments within one company
Benchmarking between companies without revealing competitive information
Create data-driven insights together,
without sharing sensitive data.
The Linksight platform
Linksight offers a platform for decentralized privacy-proof data analysis. We use advanced cryptographic technology: secure multi-party computation (MPC). Parties can "link" their data to data of others to allow for joint analyses. These analyses however, are executed while the data remains completely encrypted. This way, none of the parties can see the sensitive data of the others, yet still obtain the requested insights. The governance module guards that no computations will be started that have not been agreed upon between the parties. This allows the users of our platform to keep complete control over who uses their data and how. Our platform works in a completely decentralized fashion. Linksight provides the platform and helps with linking and formulating the right questions, but will never have access to the data nor the (aggregate) analysis results.
The platform is reviewed by external legal experts on privacy and complies with AVG / GDPR and WGBO. It offers a strong implementation of the privacy-by-design requirements from the AVG and it is a natural way to comply with terms like proportionality, data minimalisation, purpose limitations and the right to be forgotten.
In 2021, backed by this analysis, we have been able to apply MPC succesfully to real, sensitive personal data. See also the press-releases by TNO, CZ, and CBS.
Linksight provides the platform with which your organization can also gain insight from data sources from other parties, all while preserving privacy and confidentiality. Would you rather first experiment a bit with MPC? Together with Linksight you'll be able to setup a succesful MPC proof-of-concept within your organization.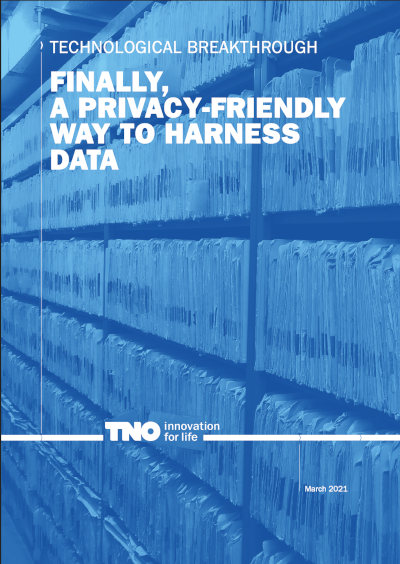 Our services
Linksight platform
We provide operational software and algorithms with which your organization can design and implement new propositions based on privacy-proof computation with data from other parties.
Gain insights you would otherwise not be able to get

Get value out of your own data without sharing it

Automate queries over data from multiple parties

Avoid non-compliance and data breach
MPC proof-of-concept
Not yet ready for operational multi-party computation (MPC)? Linksight is happy to deliver a proof-of-concept together with your organisation and its data-partners.
A working proof-of-concept within 2 months

Hands-on learning for data science, busines, IT and legal

No risk because of the use of test data

Perform real decentralized calculations, without any software installation
MPC workshop
Or is your organization looking for a short and sweet introduction to MPC for your organization? Linksight is happy to organize a workshop in which you can understand and experience the value MPC and privacy-enhancing technologies.
Accessible and fascinating

Play with an MPC demo

Technology, business and legal

Take home concrete and relevant ideas for MPC use-cases
About us
Mission
Companies and governments want to become data-driven. Yet, at the same time there is more and more resistance and stricter regulation against unbridled data sharing. In our eyes that is not a paradox; both can be achieved concurrently! It's our mission to make companies and institutions more data-driven while sending around less instead of more sensitive data. Share the insight, not the data. For this purpose we make complex cryptographic technology easy and scalable.
We see most societal value and opportunities for our technology in the healthcare domain, government, and financial institutions.
The team
Linksight is a TNO spin-off company founded in the summer of 2021. The Linksight platform is developed by us at TNO in close collaboration with leading healthcare and statistical organisations. We founded Linksight to operationalize this platform and keep innovating towards easy and scalable MPC.
We are a multi-disciplinary team with years of experience in MPC and other decentralized cryptographic technology. In 2021, we were the first team in the Netherlands to have applied MPC on real, sensitive medical information and we are now bringing this technology to the market.
Contact us
Do you also want to build towards a world in which data sharing and privacy go hand in hand? Please contact us!
Thank you for your interest in Linksight's services. Please fill in the form below and we'll get in touch as soon as possible.